Case Report of an Interesting Gunshot Wound
A.H Osborne
Journal of the Royal Naval Medical Services Vol 64 Summer 1978
The article describes the treatment of a member of the Muscat Regiment who fell fifteen feet into a wadi. The SMG that he was carrying discharged two rounds one of which entered his abdomen.
He was evacuated by landrover over rough ground for three hours then onto a tarmac road where a helicopter met him and flew him to the "55th Joint Services Field Surgical Team"
He was found to have a faecal peritonitis from a perforated and both liver and kidney damage. Peritoneal toilet was effected along with some bowel resection.
Post operatively at 24rs he had a RLL collapse and a large plug of mucous was removed with a bronchoscope.
By 36hrs he had developed a complete quadriplegia (?) from spinal concussion as X-Rays showed no spinal injury.
The colostomy functioned on the fourth day.
DPS was carried out to entry and exit wounds on the 14th day.
Neurological recovery was partial.
Retention occurred after removal of his catheter and bladder tone was restored by recatheterisation and intermittent clamping.
A right hemi-colectomy was performed at seven weeks and the colostomy was closed.
Bowels opened on the fifth day.
Small amounts of clear urine were noted to be leaking from the Yeats drain site on the ninth postoperative day and an IVP showed a small sinus from the upper calyx of the right kidney to the abdominal surface. It resolved by the 14th day and was considered to have been caused by damage which occurred when the hepatic angle of the ascending colon was mobilised.
Three months after injury further neurological improvement had occurred and he could walk with a stick. There was improved bladder tone and his bowels opened regularly twice a day.
In discussion Mr Osborne makes the following observations : –
Resuscitation was hampered by the limited availability of intravenous solutions
no conventional blood bank was available and it was only expatriate donors who were prepared to give blood at an hours notice. 15% of these had been incorrectly typed and their blood was thrown away as it could not be stored
a long median incision is needed… a smaller incision may lead ultimately to a missed injury"
DPS was delayed from the usual five to fourteen days because of wound infection"colostomy is required for large bowel injury with the two ends brought out as separate colostomies 3/4″ apart
routine anti-biotic cover should have consisted of benzyl penicillin 1megaunit IV 6hrly and streptomycin 0.5gms bd. However in this case gentamycin 80mgs iv was given instead of the streptomycin on account of the widespread faecal contamination. IV ampicillin was unavailable at the time

(It looks as supply was still a problem even late in the existence of this FST. One might have thought that proper and effective supply might have been established this late in the day – FWJdeB)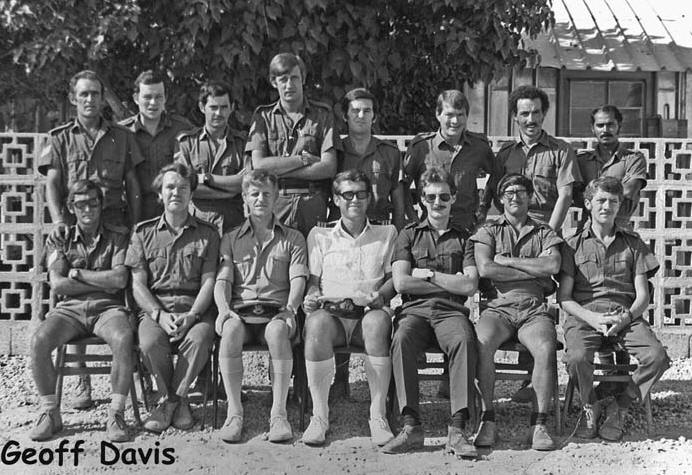 It was customary during the Napoleonic wars that the Prize Money that was awarded when enemy ships were captured was divided amongst the crew of the ship according to rank.

I understand, from two independent sources that when the FST was finally closed down all the equipment that had been signed for was returned to the MOD

That which had not been signed for or was declared u/s, which I am told included two l********s the proceeds of these disposals were then divided according to rank in the best RN tradition….